If you've been looking for a fantastic new vehicle, the 2019 Chevy Blazer could be the perfect choice. In fact, we've compiled ten fantastic reasons we love this vehicle as an ideal choice for families or busy professionals.
It has sleek HID headlamps that stand out from the crowd. Not only will these help you stay safe, but they'll enable you to see clearly and easily as you travel.


This vehicle features a Chevrolet-first Cargo Management System which lets you manage your belongings and cargo easily and simply. There's no stress, no hassle, and no anxiety.


It's comfortable. This vehicle is designed with your absolute comfort in mind, so don't waste time feeling stressed or uncomfortable while you drive. Opt for a vehicle that will ensure you have great back and neck support as you drive, and the 2019 Blazer does.


This vehicle features a 3.6L V6 engine that's guaranteed to get you where you want to go. Whether you want to take a road trip or you just need to drive to work, you'll be able to get there quickly and reliably with this vehicle.


It's easy to customize. Choose the tires you want, the colors you want, and the design you want. The Blazer is all about you.


Adjustable rear seating makes sitting comfortable and easy, even for passengers. Bring your friends, family members, or favorite pets on an adventure with you.


An available panoramic dual-pane power sunroof lets you feel great and enjoy the sunshine while you're on the go.


Hook up a trailer with up to 4,500 pounds for easy hauling and towing.


Comfort open windows ensure you're able to lower your windows before you get in. Worried about a hot day? This feature has you covered. Cool down your vehicle before you even get inside.


Wireless charging and six USB ports make traveling with your favorite technology a total breeze.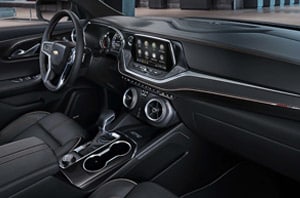 Want to find out more? Reach out today to schedule a test drive or simply to find out more information about the 2019 Chevy Blazer. We'd be happy to help you find the car of your dreams today.