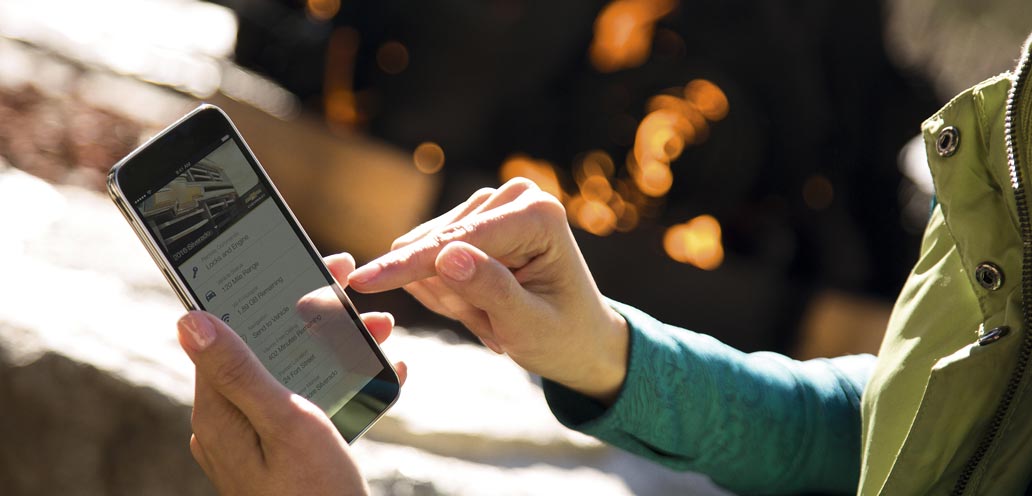 Most likely, you have experienced having someone ask where you are. You couldn't reply because you were driving. Taking your hands off the steering wheel isn't an option, but that leaves people guessing about your whereabouts. Chevrolet has come up with a solution for that problem. The new feature has been introduced to the myChevrolet mobile app, and they call it Vehicle Locate because it can ease the worries of the individual. Instead of having to pull out your phone while driving, which is dangerous, your family will receive automatic text alerts on your location.
Customized Experience
You can customize your experience and allow for the convenient management and control of the vehicle. Chevrolet also has plans for combining the two apps, myChevrolet app and OnStar RemoteLink together. This will give you easier remote access to roadside assistance, owner's manual content, parking reminders and vehicle diagnostics. You can also remote start or remote lock and unlock the car doors. All of this adds up into a single safety package that works pretty well. Over the lifetime of your Chevy vehicle, you will have an app designed to protect you.
What Other Things Can You Do?
Through myChevrolet, you can also monitor the tire pressure on your vehicle. That's important because it can be very dangerous if a tire blows out. Oil life also becomes another concern and keeping track of this is important for vehicle health because it's important for the engine in your car to be adequately lubed. This ensures the smooth operation of internal engine components.
Creating an All-Inclusive Feeling
The myChevrolet app is integrated with Remote Link, so you can now schedule maintenance, roadside assistance or set a parking reminder. All of this is important in terms of keeping you safe because you don't have to engage with multiple apps and forget which one to use at a specific time. You can find all the features from a single integrated app.
Preparing for the Unexpected
Before an emergency strikes, there's usually little warning that it will happen. That's why it is important that you get ready for it in advance. When the unexpected arrives, you want to know that you will be safe from it. Even when you're alone, myChevrolet will be there to protect you and get the help that you need. In most cases, you don't have much warning before an emergency comes to full fruition.
Are you interested in learning more about how myChevrolet works? You have plenty of great reasons to come and check out our dealership to get a car that can have this app. It's a great safety feature on the road because it protects you from the unexpected. You can find this feature on any car that is newer than 2012. No matter what life throws at you, Chevy will be there to defend and protect you from the worst of it. This app takes all the convenience while also bringing you important safety features that will keep you safe on the highway. To learn more, visit our dealership.