Orlando Chevrolet Dealer Researches the New Equinox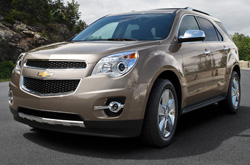 Welcome to the David Maus Chevrolet review of the 2013 Equinox. David Maus Chevrolet is a chief Chevrolet franchise in Orlando for a reason. We provide you with reviews composed by automotive writers at the height of their craft. Chevrolet Equinox information you can entrust on to make intelligent decisions is right here - each article is jammed with [helpful data and specs - all at your fingertips. Read on to see if the Equinox is right for your garage.
2013 Chevrolet Equinox Walk-around Video
Is the Chevrolet Right for You?
Comparing the 2013 Chevrolet Equinox alongside against vehicles like the 2013 Honda CR-V, Kia Sportage, Nissan Murano, GMC Terrain and the Toyota RAV4, and you will realize that the 2013 Equinox outshines the competition in many areas. Look over our bullets to see why!
2013 Chevrolet Equinox Colors: Black, Atlantis Blue, Ashen Grey, etc...
2013 Chevrolet Equinox 0-60 MPH in 8.3 seconds
2013 Chevrolet Equinox Cargo Space: 31.4 cubic feet
2013 Chevrolet Equinox MSRP: $23,755
2013 Chevrolet Equinox MPG: 22 city / 32 highway
2013 Chevrolet Equinox Body Style(s): Compact SUV
2013 Chevrolet Equinox Seats: 5 passengers
Get cash for your trade when you purchase a Chevrolet Equinox
Chevrolet Equinox Notable Amenities, Accessories & More
Engine Specs for Orlando Chevrolet Equinox Buyers
Warranty & Safety Information for Orlando Equinox Owners
Learn About Our Chevrolet Auto Repair Center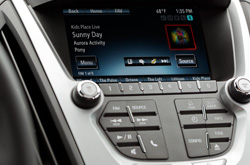 No chain car repair sites in Orlando, FL offer David Maus Chevrolet's fantastic combination of certified Chevrolet Equinox service techs, extensive warranties on all services and Chevrolet OEM parts. Keep your Equinox running its best for years; have it serviced by David Maus Chevrolet's expert car repair authorities. Whether you come for conventional multi-point inspections, a effortless timing belt maintenances or anything else, we'll complete your Chevrolet repairs with finesse. David Maus Chevrolet's got you covered for dependable Chevrolet repair and factory-scheduled service in Orlando. Save money on your next service appointment - click the link below to learn more.