Chevrolet Traverse Review for 2013 Model Year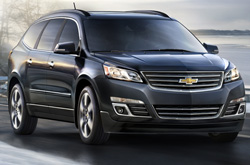 If you're having trouble deciding which Chevrolet is right for you, learn more about the Traverse below. It might just be the Chevrolet for you! Don't stress out over your next purchase; look to the top-rated Chevrolet retailer in Orlando for thoroughly researched reviews written by industry specialists. Make smart decisions when it comes to your next auto purchase, don't take guesses! Each passage is crammed with data and vehicle features in way that's easy to understand. What are you waiting for? Watch the video below or start reading the 2013 Traverse review below!
Video Review of the Chevrolet Traverse
Overview of the 2013 Chevrolet Traverse in Orlando
Bullet List of Traverse Specs & Features
When comparing the 2013 Chevrolet Traverse against the 2013 Mazda CX-9, Honda Pilot and the Hyundai Veracruz, and you'll spot that the Traverse outshines those autos in several aspects. View just a few of the reasons below.
2013 Chevrolet Traverse MSRP: $30,515
2013 Chevrolet Traverse Cargo Space: 24.4 cubic feet
2013 Chevrolet Traverse Colors: White, Cyber Grey, Atlantis Blue, etc...
2013 Chevrolet Traverse Seats: 8 passengers
2013 Chevrolet Traverse MPG: 17 city / 24 highway
2013 Chevrolet Traverse 0-60 MPH in 6.8 seconds
2013 Chevrolet Traverse Body Style(s): Midsize SUV
Chevrolet Traverse: Trim Levels, Features & More
Powertrain & Engine Info for the 2013 Chevrolet Traverse
Peace of Mind Comes Built into the 2013 Chevrolet Traverse
Chevrolet Service & Auto Repair in Orlando, FL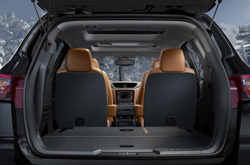 To find spectacular Chevrolet repair techs and genuine factory-made parts, Orlando Traverse owners need not travel far. Go to a site close to your residency, and benefit from the sense of contentment that comes with receiving dependable repairs and a extensive warranty on every repair. If you disregard getting dependable repair work, your Chevrolet Traverse's health might be harmed, so drive it to the knowledgeable mechanics at David Maus Chevrolet. Whether you come for standard inspections, a manageable in-cabin air filter checks or anything else, we'll complete your Chevrolet repairs with ease. For dependable Chevrolet repair in Orlando, drive your Traverse to David Maus Chevrolet, where you can look forward to personalized service. Get unreal savings - before you visit our repair division, bring a coupon. Click the link at bottom!
We're always open online- find Chevrolet repair specials now