About David Maus Chevrolet Camaro Reviews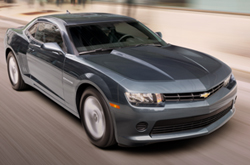 If you feel deprived for not having experienced a classic Camaro, even while new and wondrous technologies beckon, take heart! The Camaro of the 1960s - cool as it was - can't hold a candle to the incredible power under the hood of the new 2015 Chevy Camaro for sale in Orlando today. Just peruse our 2015 Camaro review and see if you don't come away happy to be living in this age of advanced auto technology!
Fresh from a recent update in 2014, this year's Camaro carries over its best-seller style, power, handling and efficiency while sporting a new Blue Velvet Metallic exterior color choice. Sleek and sexy, the Camaro maintains its street cred while adding the modern convenience features we all love in addition to its advanced powertrain. You don't have to go beyond the standard 2015 Camaro LS or LT models to satisfy your power craving with an impressively efficient 323-horsepower V6 engine delivering EPA mpg estimates that will astound you. But let's talk real muscle! Under the hood of the 2015 Camaro SS lurks a 426-horsepower, 6.2-liter V8 that only trembles when a supercharged Camaro ZL1 pulls out in front. Fasten your seatbelt, because the ZL1's 580 horses will streak to 60 mph in 3.9 seconds! Purists will appreciate the Camaro Z/28, which brags fewer ponies but is master of the track. Whatever your reason for buying a sport car; Camaro has you covered with an array of models that will suit purposes ranging from commuting and date-night to a day at the track.
The 2015 Camaro LT offers excellent amenities for daily use, like a seven-inch color touch screen infotainment interface which can be paired with an available in-dash GPS navigation system. Any 2015 Chevrolet Camaro for sale in Orlando comes with standard six-month OnStar Directions and Connections service. That may trip up your plan to run out of gas on some back road with your best girl, but it will come in pretty handy in just about every other circumstance! Learn more about standard and available features as our 2015 Chevy Camaro review continues below with additional stats, a video tour and a cool car comparison feature.