About the Chevrolet Corvette in Orlando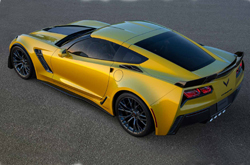 Is there anything more American than a Corvette? Well, maybe, but you can't deny the Corvette is an American sport car icon; and given the long, straight, flat roadways here in Florida, this is a great venue for driving a "Vette." Now in its seventh generation, Chevy has continued to improve upon the Corvette's handling, power and efficiency. We'll look at some of those improvements and investigate the new Z06 in our 2015 Chevrolet Corvette review for Orlando sport car shoppers.
The new C7 Corvette debuted last year, making leaps and bounds in improvements to interior materials, while adding techy hi-def dash screens and multiple driving modes for a variety of roadway conditions. Improved brakes, fifty-fifty front-to-rear balance and aerodynamic design changes all contributed to better handling and stability. The C7 Corvette lost the traditional round taillights for a more modern, angular look in back and did away with the hideaway headlights in front.
This year, we're looking at the new 2015 Chevrolet Corvette in Orlando, which seems to be taking on more and more personality. The all-new Corvette Z06 stares down oncoming cars with a Clint Eastwood-style squint. Acutely angled headlamps are etched by LED accents and blaze above a black mesh grille with a self-asserting air. The new attitude suits the 2015 Corvette Z06's amazing ability. Styled alongside the C7.R racer, the new Z06 is designed for optimum downforce and airflow, from its oversized hood vent and air-gulping grille, to its enlarged fender vents and air outlets in the rear fascia. In Car and Driver's 2015 Chevrolet Corvette review of the Z06, they cite GM's declaration that the Z06 with the Z07 package produces the most downforce of any production car it's ever tested, including those by other makers. The Z06's supercharged 6.2-liter V-8 with SAE certified 650 horsepower and 650 pound-feet of torque is similar to the Stingray's LT1, but has undergone some decisive upgrades. Buyers will have a choice between a seven-speed manual or an all-new paddle-shift eight-speed automatic transmission.
You'll find more information below, including a selection of our local inventory of the new 2015 Chevrolet Corvette in Orlando. Contact our Orlando-area Chevy dealership for a test drive!