Express Update from Orlando Chevrolet Research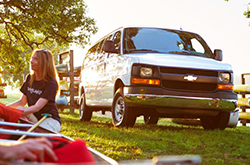 Running a large cargo van all over Orlando with a lot of empty space in back flies in the face of efficiency. Why not downsize your transport vehicle to fit your needs? Commercial cargo vans and service vans do not need to be lumbering, gas-eating behemoths! Whether you are a small business owner or a fleet manager, you owe it to yourself to look at the all-new 2015 Chevrolet City Express in Orlando. The City Express conquers urban roadways with its small turning radius and diminutive footprint, coupled with easy side and rear access to cargo or equipment, even in tight, older downtown quarters. Small in stature, the City Express nevertheless offers big signage areas to advertise your business while on the go. You'll find the City Express not only fits tight parking areas, but it fits tight budgets as well! As our 2015 Chevy City Express review continues, we'll take a look at the City Express stats, features and options.
If you've read this far, you're probably already on the lookout for a fuel efficient commercial vehicle that will hold up to the wear and tear of daily deliveries or worksite visits, offer up a safe driving experience, and help keep your drivers or techs on task. The City Express is equipped with a dual overhead cam gas engine that admittedly is not going to climb mountains, but does great on flatland urban streets like ours here in Orlando. It's a small engine combined with a continuously variable transmission that eases fuel costs and comes with a 2-year, 24k-mile Chevrolet Complete Care Package, paired with the best commercial van warranty coverage available. Chevy's 5-year/100k-mile powertrain warranty and 3-year/36k-mile bumper-to-bumper warranty are a big selling point for business owners who depend on the viability of their fleet vehicles.
Leave the big maps tacked to the wall in the garage - the available technology package's navigation feature with voice recognition will help keep field techs and delivery drivers safely on track and alert to their surroundings as they pilot the 2015 City Express in Orlando. You'll rest easy knowing they will be protected by six standard air bags plus Chevy's advanced technology stability control. Tire pressure monitoring systems will help avoid delays and also aid in keeping fuel consumption optimal. Rear-vision cameras and rear park assist may be a boon in keeping your insurance premiums down. For more nuts and bolts information, see our bulleted list below, followed by a video walk-around tour as you scroll through the rest of our 2015 Chevrolet City Express review.