Orlando Chevrolet Dealership Reviews the New Impala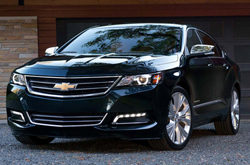 After last year's major redesign, we didn't expect many changes to talk about in our 2015 Chevrolet Impala review, but turns out there are a couple of exciting new features to discuss! Like most of the new Chevy lineup, Impala receives added connectivity this year from Chevy's OnStar with 4G LTE connectivity. Combined with the Chevy MyLink infotainment interface, standard on LT and LTZ models, there's a world of resources available to you everywhere you go. Connect up to ten devices, or make use of Impala's new built-in wi-fi hot spot. Kids, friends, car-poolers and other tag-alongs will enjoy the trip as much - or in some cases more - than the destination!
Another new feature you'll find debuting in the 2015 Chevy Impala in Orlando is the fuel-busting stop/start technology added to Impala's 2.5-liter engine. With stop/start, you don't burn fuel waiting for the drive-thru line to move. Your engine shuts off at a complete stop and restarts when you release the brake, accounting for a five percent boost in Impala's estimated city mpg ratings.
Another happy surprise for green-minded car shoppers looking at a 2015 Chevy Impala in Orlando is an all-new bi-fuel model option. Chevy has set a new milestone by offering the only manufacturer-produced full-size sedan in North America to run on both compressed natural gas (CNG) and gasoline. See our dealership for more details on alternative fuel Impalas.
Beyond these newly added features, we are seeing the same impressive sedan that earned Best Car of 2014 from Cars.com and made KBB's list of the12 Best Family Cars last year. Quiet, comfortable and roomy, Impala offers a relaxed environment for you and your passengers. Proactive safety systems like adaptive cruise control, crash-imminent braking, side blind zone alert and rear camera are all available in the Impala. Continue perusing our 2015 Chevrolet Impala review continues below, offering up more stats, an Impala car comparisons feature and a walk-around Impala video tour.