Orlando Suburban Research on the 2015 Chevrolet Model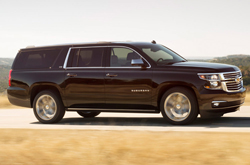 While SUVs have become more and more popular, we've seen them getting smaller and smaller amidst a proliferation of crossover vehicles. For those who require the space and power of a truck-based, full-sized SUV, meet the all-new 2015 Chevrolet Suburban in Orlando which seats up to 9 people. Suburban has been fully redesigned for 2015 with a quieter, enhanced interior, increased flexibility and heightened fuel economy. Edmunds notes Suburban's strong position in this shrinking full-sized SUV segment: "Based on its size and capacity, the Suburban is one of the most capable vehicles on sale today, with just a few direct competitors." To compare Suburban to those direct competitors, use the "Dare to Compare" feature included in this 2015 Chevrolet Suburban review for Orlando SUV shoppers, where you may view instantly generated SUV comparisons.
Even if your needs are simple and your priorities draw you to the maximum 121.1 cubic feet of cargo capacity and maximum 8,100 pounds of towing capability, you'll be pleased to know that even the base Suburban LS has some pretty nice standard convenience features like remote start and a rear vision camera. Listen to satellite radio, or enjoy your own music library using the two USB ports and Bluetooth connectivity. An included six month subscription to OnStar's directions and connections plan will help you find what you're looking for in Orlando and allow you to call ahead (hands free) to make a reservation or let your significant other know you're running late. Upgrading to the LTZ trim opens up a whole world of perks, from an eight-inch color touch screen MyLink infotainment interface with OnStar's built-in wi-fi zone, to an available rear-seat dual-screen Blu-ray DVD entertainment system. You might not think the standard sliding cover over the center-front cupholders on the LTZ is a big deal unless you have a large dog who likes to stand in the back and hang his head over the center console!
Suburban's new standard 355 horsepower V8 powertrain utilizes state-of-the-art technology which includes direct injection and continuously variable valve timing to boost engine efficiency. When you drive a new 2015 Chevrolet Suburban in Orlando, you'll benefit from the aerodynamic design changes not only with increased fuel efficiency, but also with a quieter ride. The way the doors have been fitted not only cuts down on highway-speed drag, but also blocks out more busy Orlando traffic noise. Learn more from the 360-degree video tour and features overview as our 2015 Chevrolet Suburban review continues below.