Quality Chevrolet Trax Research From David Maus Chevrolet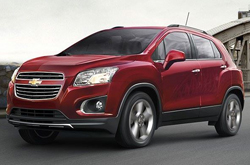 Chevrolet has sold 90,000 Trax compact SUVs in 60 foreign countries since its launch in the late fall of 2012. This year, you'll find the2015 Chevrolet Trax in Orlando and across the US market. If you're among those seeking a small vehicle with large capability, offering the latest technology, appealing design and versatility, Chevy is betting you'll like the Trax. Pull up a chair and make yourself comfortable; we have a lot of information to impart in our 2015 Chevy Trax review.
Trax rounds out Chevy's lineup of small cars, joining the Spark, Sonic and Cruze. The Trax standard engine is a 1.4-liter turbocharged four-cylinder which delivers the same horsepower as the Sonic's 1.8-liter engine and offers similar fuel economy to Sonic's automatic transmission models. The Trax comes standard with a six-speed automatic and front-wheel drive, with available all-wheel drive. Carrying space is where Trax really shines. Squirrel away precious carry-alongs in bins under the rear load floor, in a hidden storage drawer under the front passenger seat, or in door bins, seat pockets and dash cubbies. Stow groceries and other packages conveniently behind the rear seat which offers up 18.7 cubic feet of storage area. Fold down the split rear seat to open up 48.4 cubic feet for big items or to protect your upholstery from big dogs. Fit that eight-foot faux Ficus in your Trax by folding down the front passenger seat. That's one accommodating small SUV!
On the base trim, you'll have power windows and locks, AC, rearview camera, a four-speaker stereo with CD and USB input, plus Bluetooth connectivity. As you ascend the trim levels, of course, you receive more and more perks. The 2LT offers Chevy's MyLink with its associated seven-inch touchscreen interface, plus satellite radio and the ever-popular rear park assist. Chevy's new OnStar 4G LTE with built-in wi-fi offering will also be available in Trax, along with Siri Eyes Free for iPhone users. As our 2015 Chevy Trax review continues below. You'll get the low-down on all the new Trax features from our 360-degree video tour. Once you're armed with the facts, you may want to visit our central Florida Chevy dealership to take a spin in a 2015 Chevrolet Trax in Orlando. See for yourself how well Trax will fulfill your needs for an economic, boldly styled and versatile, small SUV.