Orlando Dealer Researching the New Chevrolet Volt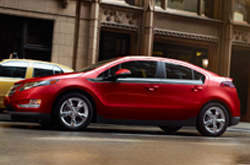 Back in 2011 when the Chevy Volt first launched, CarandDriver.com named the Volt to their top ten best cars list. Four years later, they continue to rank the Volt #1 among hybrid vehicles, while AutoTrader's 2015 Chevrolet Volt review explains: "Harnessing the best of two worlds, the 2015 Volt is a viable and attractive solution within the realm of green motoring." Much of the enthusiasm stems from the fact that Volt is a fun car to drive, with its smooth, quiet and peppy ride. The scale-tipping factor is that you can drive your 2015 Chevy Volt in Orlando all day long and never experience "range-anxiety." Why? Because Volt has a 300-mile range on a charge and a tank! You'll travel 38 miles at zero emissions using Volt's all-electric mode, then seamlessly switch over to gas power and always be able to get where you need to go. When you compare Volt to the Nissan Leaf with its 80-mile range, or the Prius plug-in which offers about a third of the Volt's zero-emission range, there's just no contest.
Recharging your Volt at home is simple and convenient. You can use a 120V outlet or a dedicated 240V, professionally installed home charging station. The charging station works fast, completing in about four hours, while the 120V outlet is best done overnight, completing in 10-16 hours. You have the ability to plug in and schedule a delayed charge for off-peak hours to save on electricity rates.
Not only can you feel good about your contribution to a cleaner environment, but you can absolutely enjoy cruising around in your Volt! This is no bare-bones automobile. Volt comes standard-equipped with just about every infotainment connectivity feature you could ask for, including Chevy's newest offering of OnStar with 4G LTE and standard built-in wi-fi, along with MyLink's seven-inch touchscreen interface. You'll also find auto climate control, keyless entry/ignition and remote start in Volt's standard inclusions. Available options include GPS navigation, Bose premium sound, and a couple different advanced technology packages with features like rear vision camera, park assist and lane departure warning.
Be sure to compare Volt to other electric and hybrid cars using the Dare to Compare feature as our 2015 Chevrolet Volt review continues below. If you've never experienced the fun-driving, powerful, low-end torque and high-speed capability of an electric powertrain, be sure to come by our central Florida Chevrolet dealership to experience driving a 2015 Chevy Volt in Orlando today!