2016 Chevrolet Camaro Reviews from David Maus Chevrolet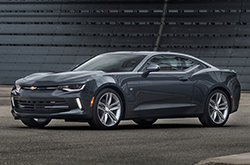 If you are looking for a refined, powerful and advanced sports car, search no further: the 2016 Chevrolet Camaro in Sanford is the choice for you. Redesigned with increased efficiency, an all-new array of powertrain options, a leaner athletic exterior and improved technology, Chevy does not disappoint with the sixth-generation of its iconic sports car.
With a completely overhauled chassis and new engine options, the 2016 Camaro keeps its bold look and combines it with even bolder capabilities. Featuring three engine models and the option of a manual six-speed transmission or an automatic eight-speed with paddle shifters, the 2016 Camaro offers the ideal amount of choices for a truly customized feel. A new addition in the 2016 model, drivers can now select a standard 2.0L four-cylinder that makes 275 horsepower and 295 pound-feet of torque, and receives 30 mpg on the highway - a value that makes it the most efficient Camaro in history. Additionally, the revised direct-injection 3.6L V-6 rated at 335 hp/284 lb-ft offers the highest specific output of any V-6 in the segment, while the premier 6.2L V-8 SS boasts 455 hp and 455 pound-feet of torque, making it the most powerful Camaro SS ever. Plus, with a brand-new Drive Mode Selector, just another reason 2016 Chevrolet Camaro reviews praise the all-new generation, owners can select from a snow/ice mode, a traditional tour option and a sport setting on all models while SS drivers can select a specifically designed track mode.
With an interior just as spectacular as the exterior and engine, buyers will enjoy an eight-inch digital display with MyLink software, a premium interior configuration that was built for high-performance driving and an available LED ambient light system.
Test drive a 2016 Chevy Camaro near Orlando today and experience the thrilling experience that Aaron Link, the lead development engineer, provides in his own 2016 Chevy Camaro review. "Immediately, you will notice how much lighter and more nimble the Camaro feels. That feeling increases when you drive the Camaro harder - it brakes more powerfully, dives into corners quicker, and accelerates faster than ever."