2016 Chevy Cruze Reivew - New Sedans near Orlando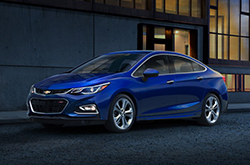 We're proud to introduce the all-new 2016 Chevy Cruze to Orlando-area drivers! Thoroughly reimagined with a lighter, larger and more efficient design, the second-generation Cruze essentially amplifies everything that shoppers already loved.
Engineers trimmed the fat (not that there was much), so the car sees a substantial reduction in weight. From a new body structure to the new turbocharged EcoTec four-cylinder, Cruze now features several components that are lighter than their predecessors. Overall, the car drops 250 pounds thanks to these new features and a variety of other carb-reducing changes.
The new direct-injected turbo engine offers up to 40 mpg highway with an available six-speed automatic, according to GM's estimates. In addition to having a more advanced engine and less weight to carry around, the 2016 Chevy Cruze in Sanford also uses stop/start technology, which helps maximize fuel economy during stop-and-go driving.
While the sedan offers reductions in terms of weight and efficiency, it also shows off increases in all the right places, namely interior space and technology. With greater room for passengers, upgraded materials and more available tech, 2016 Chevy Cruze reviews say shoppers will enjoy enhanced comfort and connectivity on their commutes.
When you come test drive the 2016 Chevy Cruze in Sanford, we think you'll be happy to see that the sedan's growth in cabin space is perceptible to the eye and not just on paper. When comparing this year's inches to last year's, there's certainly a quantifiable change, but more importantly when taking a seat inside and looking around you'll feel and see the space improvements.
In addition to actual physical space, the car's roomier "feel" is also due to changes in design that create a more open and premium look. Along with a flowing instrument panel, which meets the front doors in a near seamless fashion, the cabin also receives a new center console design, repositioned shifter and cup holders, enhanced use of soft-touch materials and details that offer a luxury touch, like micro-etched surfacing and contrast French stitching.
When it comes to technology, which 2016 Chevy Cruze reviews say is a highlight, the sedan includes a commendable suite of infotainment and safety options. Complementing other updates, the latest MyLink system is now compatible with Apple CarPlay and Android Auto, which is big news for smartphone users. Plus, an expanded set of innovative driver-assist features provide comprehensive safety, using state-of-the-art radar-based technology to help drivers avoid collisions. Lane Keep Assist, Rear Cross-Traffic Alert, Side Blind Zone Alert and Forward Collision Alert are available for this year's buyers.