2016 Equinox Research & Reviews from David Maus Chevrolet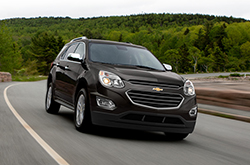 Chevy's incredible option in the crossover class just got even stronger thanks to the new updates in the 2016 Equinox. Changes to Chevy's premier compact SUV include updated accents, new wheel designs, upgraded safety features and additional standard accessories. If you are looking for an efficient, safe and innovative small SUV, there is no doubt that you will be satisfied with a 2016 Chevrolet Equinox in Orlando, a leading choice among mid-size crossovers.
The sophisticated exterior upgrades include new daytime running lamps, a redesigned rear exterior, a new grille design and additional available wheels for select models. Standard with an efficient 2.4L four-cylinder engine, drivers will enjoy an estimated 32 mpg on the highway in the front-wheel-drive model. For drivers who desire a little extra pull and some extra power, Chevy also offers a direct-injected 3.6L V-6 model that produces a best-in-class 301 horsepower. A strong choice according to the 2016 Chevy Equinox reviews, the six-cylinder model can also tow up to 3,500 pounds.
Chevy knows that drivers rely on their vehicle to get them from point A to point B safely, especially when there is precious cargo riding along. For that reason, the 2016 Equinox is equipped with a standard rear-vision camera and available with a host of safety technologies that include a rear cross traffic detector, a blind spot alert system, forward collision alerts and a lane departure warning system. Because of the emphasis on safety, Equinox drivers will find extra peace of mind in the vehicle that has consistently received top safety ratings from 2016 Chevy Equinox reviews.
It isn't always just about the destination, though. Thanks to an array of standard and optional connective features, the Equinox offers top-notch convenience. Whether drivers desire to utilize the standard 4G LTE built-in Wi-Fi capability, the remote keyless entry, the power liftgate or the smartphone connectivity, Equinox owners will surely be delighted with all that the crossover has to offer.
In the newly upgraded Equinox, efficiency, performance, comfort and safety can truly go hand in hand. Test drive a 2016 Chevy Equinox in Sanford today and learn more about the premium compact SUV that provides a spectacular experience without any unwanted give and take.