2016 Chevy Impala Reviews - Large Sedans in Sanford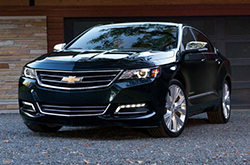 Two years into its redesign and the Chevy Impala still feels as fresh and cutting-edge as ever, largely due to a series of technology enhancements like the addition of 4G LTE Wi-Fi and Apple CarPlay! Impala continuously pushes the envelope in terms of tech finery, making it a desirable option for 21st century shoppers who love to stay connected wherever they travel.
The Wi-Fi hotspot is offered once again with a 3GB/3-month data trial, giving you plenty of time to see how onboard Internet access elevates the commuting experience. It's been tested out more than a few times and 2016 Chevy Impala reviews once again confirm that it lives up to its promise to provide an uninterrupted, reliable Internet connection on the road.
This year, the new Apple CarPlay feature is Impala's latest headline-making update. If you're shopping for a full-size sedan, stop by David Maus to find the 2016 Chevy Impala in the Orlando area and see how CarPlay works for yourself. The new technology offers seamless smartphone integration through the Chevy MyLink system and is compatible with the iPhone 5, 5c, 5s, 6 and 6 Plus. CarPlay makes it safer to take calls and send text messages while on route, with the help of Siri and an easy-to-navigate touch screen. It also provides in-car access to music apps, Apple Maps and much more.
Wireless charging capability has been introduced this year, as well. Just place your phone on the designated charging pad and electricity will be drawn to your device with no jumbled cords or wires. New Active Phone Cooling has been integrated too, providing ventilation to phones and ensuring that they don't overheat. It's a feature that 2016 Chevy Impala reviews praise because it protects the lithium-ion batteries contained inside of mobile devices and enables proper charging ability.
For the 2016 model year, Impala also receives a new Midnight Edition package, which includes a Jet Black rear spoiler, grille, interior, exterior paint and bowtie logos, along with 19-inch machine-faced aluminum wheels with black accents. Come check out the 2016 Chevy Impala near Orlando at 972 Towne Center Blvd. and take it for a test drive! Along with the sleek blacked-out Midnight Edition, the Impala lineup is offered in several new colors, including: Citron Green Metallic, Heather Gray Metallic and Mosaic Black Metallic.