2016 Chevrolet Spark Research & Review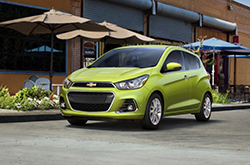 Efficient, safe, innovative, agile and sophisticated, the 2016 Chevrolet Spark is a premier mini-car that offers the latest technologies and a refined ride. With an upgraded drivetrain, a range of newly available safety features and a rearranged interior that offers extensive space, the 2016 Chevrolet Spark in Orlando is perfect for commuters who desire efficiency as well as those who seek an exciting driving experience no matter where the destination may be.
With a completely redesigned appearance, the 2016 Spark sits lower on a wider base to produce what many 2016 Chevy Spark reviews consider a more mature appearance. Plus, the global mini-car will now be available in three new colors: Toasted Marshmallow, Kalamata and Splash. Beyond the exterior upgrades, the redesigned spark also includes an all-new, 16 percent more powerful Ecotec 1.4L engine that can be complimented with manual or continuously variable transmissions to offer upwards of 40 mpg on the highway. The new engine does not only allow for greater efficiency, but, the minicar now runs smoother and quieter than ever before.
Often times, buyers question the safety of mini-cars simply because they are mini. But, Spark owners can rest easy knowing the Spark offers top-notch safety capabilities thanks to its strong body structure and its wide array of standard and optional active safety features. Not only do drivers receive a standard rear-vision camera, but, they also have the option of adding programs like a forward collision alert, lane departure warning and a side blind spot system. The incredible suite of features and excellent crash scores has allowed the Spark to build a reputation of safety that, according to 2016 Chevy Spark reviews, is only further enhanced by this year's model.
Beyond the safety, the 2016 Spark also includes innovative technology that further emphasizes its global minicar identity. The all-new MyLink radio includes an icon-based display that functions similarly to a smartphone with apps and easy accessibility. Plus, with a 4G LTE built-in Wi-Fi system, drivers and passengers can stay connected with the outside world with a simple touch of a button.
All in all, the 2016 Chevy Spark is a must-have when it comes to an efficient, comfortable, stylish and modern mini-car experience for drivers of any age. Test drive a 2016 Chevrolet Spark in Orlando today to learn more about Chevy's premier global car program and the perfect combination you'll find wrapped up in a brand-new Spark.