2016 Chevy Volt Reviews, Specs & Features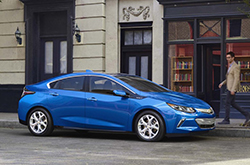 Stronger, more efficient and sleeker than ever, the all-new Volt has lived up to the 2016 Chevrolet Volt reviews that have titled the electric car as "one of the most capable plug-in vehicles in the industry." Not only can drivers now travel further between fill-ups, but, new technology enables easier location-based charging and more comfortable rides. Test drive a 2016 Chevy Volt in Sanford today and discover the value of what many consider the perfect hybrid for everyday life.
The revised Volt includes a new Voltec propulsion system that allows for a greater all-electric driving range of up to 50 miles and provides for stronger acceleration. Although developers estimate that many Volt drivers rely solely on this electric portion for more than 80 percent of their drives, a 1.5L four-cylinder engine kicks in to provide 41mpg when the battery runs low. Plus, experts estimate that drivers can travel anywhere from 400 to upwards of 1,000 miles between fill-ups, all depending upon how often the electric car is charged. Whether you are looking to set your home base settings to reflect your schedule or you would like to be able to charge your Volt conveniently in public, the all-new systems allow Volt owners to charge on their own times thanks to the all-new GPS location-based charging, intelligent charge status indicators and portable cord enhancements. With an easy-to-use electric system, it is no wonder that 2016 Chevrolet Volt reviews continue to praise the sedan for having the best all-electric range of any plug-in hybrid.
A car that truly leaves no compromises, the Volt provides a premier electric car experience in an exceptional sedan atmosphere. Volt drivers will appreciate a suite of standard and available safety features like lane keep assist, a standard rear-vision camera, advanced park assist and forward collision prevention in addition to the 5-Star overall New Car Assessment Program rating from the National Highway Traffic Safety Administration. Beyond the pristine safety record, the Volt also offers dual digital displays with eight-inch screens that relay driver information and allow control of the accessible Chevrolet MyLink system.
The 2016 Chevrolet Volt near Orlando is the perfect plug-in hybrid for daily life. With a generous all-electric driving range and top-notch fuel efficiency, a comfortable and luxurious design and the most updated technologies and safety software, the 2016 Volt is truly an unparalleled choice for a sedan in Sanford.