Orlando Chevrolet Dealer Researches the New Cruze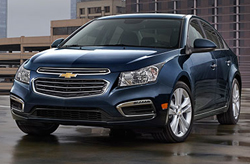 If you've been hearing all the kerfluffle about the new "China Cruze," just simmer down and peruse our 2015 Chevy Cruze review for a quick look at the facts about what to expect in a 2015 Chevy Cruze in Orlando.
Orlando car shoppers will find the new Cruze received some minor tweaks to the 2014 model we all know and love. While China is receiving a China-only Cruze model that is specifically tailored for that market, it is not the global-concept Cruze which we'll be seeing here in the United States in a couple years.
So let's talk about our Cruze and its flashy new front end with Impala-style double grille and sporty new LED running lights decorating LT and LTZ trims. We see an attractive, capable, quiet and well-handling little sedan with big technology! The 2015 Chevrolet Cruze in Orlando now offers a built-in 4G LTE data connection option that sports a Wi-Fi hot spot surrounding the vehicle. With the 4G feature, you'll feel like you have your own personal assistant riding with you. Apple Siri Eyes Free integration means iPhone 6 and 7 users will be conversing with Siri and getting things done on the go! Gone are the days of "driving around" to look for - well - anything! Just ask your Cruze for directions to the nearest gas station, pizza place or theater and give up patrolling the streets like a police cruiser on the beat!
Of course, if you're looking to put some miles on the odometer, you'll find the Cruze has several engine choices which offer jaw-dropping fuel efficiency, including a diesel option. Check out the mpg stats on specific Cruze sedans by clicking through on any of the sample cars you see below, each representing an actual real-time 2015 Chevy Cruze for sale in Orlando. Learn even more as our 2015 Cruze review continues with quick Cruze stats, a car comparison tool and a 360-degree visual tour with features overview.