Review the 2015 Malibu from Chevrolet Dealer in Orlando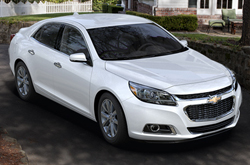 No need to miss important messages in order to be a safe driver! The 2015 Malibu straps on new connectivity for Florida car shoppers. You're going to love the new OnStar 4G LTE and its mobile wi-fi hotspot, standard on all but the base 2015 Chevy Malibu in Orlando. All Malibus have standard Bluetooth connections, but this added connectivity on LT and LTZ models includes Chevy's MYLink, a highly customizable infotainment interface that will even read your text messages to you over the vehicle sound system. The new wi-fi zone allows your passengers to bring their wireless devices along and pass the time enjoying their favorite games or videos, or simply browsing online.
We'll go over standard and available feature offerings in our 2015 Chevrolet Malibu review for Orlando car shoppers. Both economical and attractive, Malibu has traditionally been a popular choice among young drivers, but mature car buyers are now finding Malibu a practical alternative. Inside, Malibu's dual-cockpit design creates comfortable zones for the driver and front passenger, with easily accessed center console storage, great for holding daytime needs like sunscreen and sunglasses, or evening last-minute essentials like hair products and breath mints for those unexpected encounters. You and your companion(s) will enjoy the cool nighttime ambiance from the soft blue lighting which complements the blue-lit center panel dials. Soft-touch interior materials and comfort seating make Malibu great for commutes, long drives or date-nights. Available interior convenience features run the gamut from satellite radio and the aforementioned Chevy MYLink with wi-fi connectivity, to dual-zone climate control, remote start and a rear-vision camera system. An optional 9-speaker Pioneer sound system will add to your driving (and parking) enjoyment.
Malibu's practical side offers a standard 196-horsepower 2.5-liter engine with direct injection, variable valve lift control and a six-speed automatic transmission. These powertrain features, in addition to stop/start technology, contribute to an extremely satisfying fuel economy rating. If you prefer more pep, the 2.0-liter turbocharged engine offers best-in-segment torque with its 295 pound-per-foot and 259 horsepower SAE-certified ratings.
As you investigate the rest of our 2015 Chevy Malibu review, you'll be able to compare Malibu to competing cars using an independent car comparison tool. We have also included a sampling of new Malibu inventory below so you can see actual specs, options and sale prices as you shop the new 2015 Chevy Malibu in Orlando.