Orlando Dealer Researching the New Spark Spark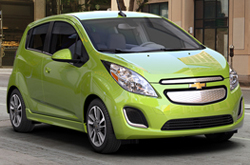 In the mini-car segment, the Spark is real crowd pleaser - especially if the crowd is in the car! Spark is roomier than competing cars, with space for four people and a dog, and still maintains its comparable efficiency compared to other cars in this segment. If the crowd is outside, they'll admire how the Spark's lime, grape or salsa colors pop among the ho-hum sea of muted blues and grays in the traffic stream. The Spark gives off a cheeky impression, from its bright colors and pugnacious styling to the sporty hatch door with its integrated spoiler. Intrigued? Read more of our 2015 Chevrolet Spark review for information on Spark's power, safety, convenience and infotainment features.
As you shop the 2015 Chevy Spark in Orlando, you'll find the LS and LT models, with 1LT and 2LT trims offer a nice selection of options to satisfy your wants and needs. If you need space for more than passengers, Spark delivers with 31.2 cubic feet of storage area when rear seats are folded down. If you need security, Spark is the only car in its segment to provide a five-year, 100,000-mile powertrain warranty. Spark's safety essentials have not changed since it was designated an IIHS Top Safety Pick last year. If you need economic fuel efficiency, click on any 2015 Chevy Spark for sale in Orlando shown below to check out its EPA estimated mpg ratings. You'll love the numbers!
Outside of needs, what do you want? All the latest high-tech connectivity? Spark has it in spades! Spark's new OnStar with 4G LTE and available wi-fi hotspot creates a connection zone for everyone in the vehicle to stay informed and entertained via their favorite bring-along mobile wireless device. Spark's hands-free connectivity also provides you with an enjoyable and safe driving experience.
Learn more about Spark's features and its Ecotech engine with continuously variable transmission as our 2015 Chevrolet Spark review continues with more stats, a walk-around video tour and an independently produced car comparison tool.