2016 Chevy Corvette Research and Reviews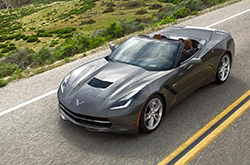 In the updated 2016 Corvette, Chevy offers the award-winning "Vette" quality with even more performance, style and capability than ever before. Available as a coupe or convertible, the 2016 Chevrolet Corvette in Sanford is the perfect vehicle to drive along the straight, flat roadways on a beautiful central Florida day. Plus, with an array of performance options, the choice of a premium Z06 model and new design packages, the 2016 Corvette is bound to turn heads whether in the city or on the track.
Running with a 6.2L V-8 engine rated at 455 horsepower and 460 lb-ft of torque, the 2016 Corvette is definitely capable when it comes to power. Plus, drivers can upgrade to even more performance at 460 hp and 465 lb-ft of torque with a special performance exhaust system. Whether you enjoy manual shifting and prefer a seven-speed manual transmission or you enjoy the dual-clutch capabilities that come along with an eight-speed automatic transmission with paddle shifters, the Corvette has exactly what you're looking for.
The power doesn't stop there, though. The 2016 Corvette Z06 proves its performance with a 6.2L supercharged V-8 engine that offers 650 horsepower and 650 lb-ft of torque, ratings that easily make the Z06 the most powerful car ever produced by General Motors, according to 2016 Corvette Reviews. Plus, the C7.R Edition offers a special racetrack ready appearance, lightweight brakes, winglets for aerodynamic downforce and a 0-60 time of less than 3 seconds.
It is not only the performance that has motivated the 2016 Corvette reviews to consider this year's array of models the best yet; Chevrolet has combined the classic style with an extensive list of extra features and upgrades. All models and trims come with a Drive Mode Selector so that your Corvette can perform for any occasion, whether a day on the track or simply touring through town. Plus, the incredible Performance Data Recorder uses a high definition camera to record video and audio from the driver's point of view that can be played right back through the Corvette's eight-inch touchscreen or on a computer.
The 2016 Corvette in Orlando is unparalleled when it comes to performance, luxury and innovation. Test drive a Corvette today and fall in love with the flawless sports car that has consistently been chosen as a leader in its class.