2016 Chevy SS Sedan Reviews & Research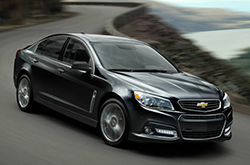 Following a string of upgrades last year, the 2016 Chevy SS arrives with a multitude of exterior updates that support its performance offerings and enhance its overall appeal. A brand-new paint color option, a revised front fascia and the addition of fresh wheels complement the sedan's performance-focused upgrades made on the 2015 model and evoke a more athletic appearance. To learn about each of these new components and discover other tweaks made to the SS, please read our 2016 Chevy SS review below. Offering top-notch power and first-class reliability, the latest SS is an excellent choice for buyers in the market for a sports sedan.
For 2016, the Chevy SS has received a variety of exterior modifications that enhance its performance. Its front fascia has been revised and features brand-new vertical ducts at the outer edges that improve aerodynamics by directing airflow over the front wheel openings. On top of this modification, the 2016 Chevy SS in Sanford now comes with LED front lights, 19-inch cast aluminum wheel, functional hood vents and a dual-mode exhaust system that delivers either quiet or loud performance depending on engine speed. Additionally, the sport sedan is available in a fresh Slipstream Blue paint color and features standard navigation with Chevy MyLink inside the cabin.
Once again this year, the 2016 Chevy SS in Sanford sports a 6.2L V8 engine underneath the hood that can be paired with either a six-speed manual or Hydra-Matic 6L80 six-speed automatic with paddle-shift control. The displacement delivers 415 horsepower and 415 lb.-ft. of torque, which is ample power for a sedan its size. The SS's sport-tuned suspension further complements its powertrain by helping to provide exceptional driving dynamics, making it easy for drivers to control the vehicle at various speeds.
If you'd like find out more details about the SS and its updates, continue to browse our 2016 Chevy SS review.