Chevrolet AC Repair in Sandford, FL
Nothing is quite as frustrating as getting into a vehicle on a hot day and discovering that the air conditioning isn't working properly (or at all). Not only is this extremely uncomfortable for driver and passengers, but there are times when it can even be a health concern for infants or older passengers. When you discover a problem with your Chevrolet AC, it's time to visit us at our dealership for a full inspection and diagnostics. The longer you wait to repair an air conditioner problem, the worse and more expensive it might become. Come see us as quickly as possible if any of the following problems arise.
Why is there a funny smell coming from my AC?
Two primary problems might be troubling your AC. It could be that the air filter cabin is old and beginning to smell, or it could be that there is mold on your evaporator case. Neither of these situations is good!
Why isn't the air conditioner getting as cold as I'm used to?

A leak, clog, or other common problem might be causing your AC to perform at less than optimal levels. Fuses often become faulty as well, causing for normally "cold" air to blow out as warm air, and this is certainly not something you'll want to face as the months of the year grow warmer. The minute you notice a decline in performance, it's time to have your AC inspected at our dealership.
What might cause my AC to leak?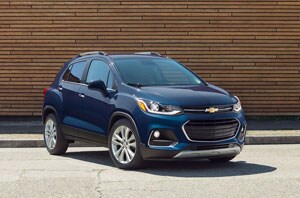 Leaks are generally the beginning of the end for optimal performance of your AC. That's because when acidic liquids begin to leak, your system's components will start to corrode and eventually become so damaged that they no longer work the way you need them to. Only a solid AC performance check is going to allow you to find out if it's a leak or not, but leaks are very common issues with today's Chevrolet ACs. If you suspect a leak, it's time to get some help.
Is there a light to let me know my AC is going out?
Unfortunately, Chevrolet vehicles typically don't come with any sort of lighting system that lets you know your AC is having an issue. This is something you'll find out when you bring your vehicle into our dealership for service. During your AC performance check, we'll thoroughly inspect each component of your air conditioning system and determine where the issue originates from. So just remember, your vehicle doesn't have a light that's going to come on and let you know the AC is going out. Look for the symptoms of an AC on the fritz and you'll be able to get it to us for us to look over and fix.
We invite you into our dealership for a full AC performance check that will let you test the health of your AC and know if you need any replacement components or a cleaning job. There are many ways we can work on your Chevrolet AC, but we can't do any of those things if you don't stop by and see us for a check today.