Are You Wondering, Where Can I Find A Chevrolet Tranmission Repair Center Near Me?
Regular vehicle maintenance as recommended by the automaker is essential for the longevity and overall excellent condition of your Chevrolet. Regardless of which model that you drive, you may take important and common steps to maintain it. This may include rotating the tires and changing the oil several times each year. Transmission service is usually required less frequently, so it is easy to overlook as part of your regular Chevy maintenance plan. Overlooking transmission service can be detrimental to the health of your Chevy. Keep in mind that your Chevrolet's transmission is the essential system that controls and moderates the power and overall torque that your car's engine puts out. Proper function of your vehicle is not possible without a well-maintained transmission. When you fail to maintain the transmission as recommended, the chance of serious transmission issues developing is substantial. Our certified Chevrolet auto technicians are on-hand to complete any transmission repair and maintenance projects that your vehicle needs.
What Type of Transmission Work Is Included with Regular Maintenance?
The two primary components in a transmission that are targeted with a typical maintenance service are the transmission fluid and the filter. The filter is responsible for keeping dirt and debris out of the system, but some debris will pass through the filter. The fluid is an essential feature in a transmission because it provides lubrication and cooling benefits. With age and with an increasing amount of dirt and other matter accumulated in the fluid, it loses its ability to properly do its important job. When this happens, heat and friction become problematic, and transmission repair work is increasingly likely. Therefore, replacing the fluid and filter regularly should ideally be done every two to three years. Another rule of thumb is to service the transmission between each 30,000 to 45,000 miles driven. However, each model is unique, and your owner's manual recommendations should be reviewed for information that is specific to your vehicle.
Is a Transmission Fluid Flush Better Than a Fluid Change?

Some Chevy drivers believe that a fluid flush and a fluid change describe the same service. There are similarities between these two services, but one service is much more comprehensive than the other. With both services, the transmission filter is typically changed. With a fluid change, only the transmission fluid in the pan is changed. With a fluid flush, all fluid throughout the transmission is flushed out and replaced. This includes in the cooler lines and the torque converter, which together may hold as much as half of the total transmission fluid or more with some models. Consulting with a service technician about the current condition of your transmission fluid may help you to determine the best fluid service for your transmission at this time.
How Can I Tell When Transmission Repairs Are Needed?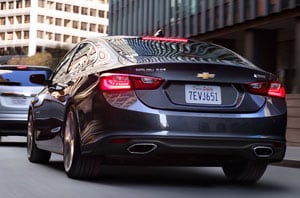 Your Chevrolet will typically show at least one of several signs when transmission damage is present. These signs may include everything from the smell of something burning and transmission fluid dripping out of the car to a jerky movement when the car changes gears. In many cases, the "service engine" indicator light will also turn on. Observant Chevrolet owners may notice some of these signs early and can address the issue before a serious transmission issue develops. If you have any concerns about your Chevy's condition or if it requires maintenance work, reach out to our team to set up a service appointment.